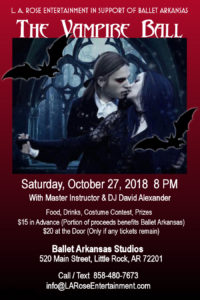 Saturday, October 27, 2018, 8 – 11 PM, Ballet Arkansas Studios,  520 Main St., Little Rock, AR 72201.   "The Vampire Ball"
Advance tickets are $15 and are available at Central Arkansas Tickets for $17 ($15 + $2 processing fee). If there are any tickets left, they will be $20 at the door. This event is expected to sell out and tickets are very limited. Admission includes dance, food, drinks, raffle ticket and costume contest.  You are welcome to bring something to share.  Proceeds benefit Ballet Arkansas. Additional donations to Ballet Arkansas will be accepted.
Master Dance Instructor and DJ David Alexander is thrilled to bring you The Vampire Ball taking place at the Ballet Arkansas Studios.  Dancers will be treated to David Alexander's personally selected ballroom, Latin, swing and social dance music. Dust off your capes, sharpen your fangs and come out of your coffin long enough to clean out the cobwebs.  Come one, come all, but come creepy, please.
Ballet Arkansas is graciously sharing their hauntingly beautiful space with us for this event, so let's be mindful and respectful of their dance floor.  You MUST wear soft-soled shoes or socks.  Ladies in stiletto heels will be required to change or remove their shoes prior to entering the dance floor.
Questions: call/text L. A. Rose Entertainment at 858-480-7673, send emails to info@LARoseEntertainment, or call/text David Alexander at 702-882-7080