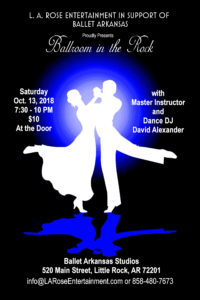 Saturday, October 13, 2018, 7:30 – 10 PM, Ballet Arkansas Studios,  520 Main St., Little Rock, AR 72201.   "Ballroom in the Rock"
$10 admission includes lesson, dance, and light refreshments.  You are welcome to bring something to share.  Portion of proceeds benefits Ballet Arkansas.
Master Instructor David Alexander is excited to introduce Ballroom in the Rock taking place at the Ballet Arkansas Studios.   Ballet Arkansas is graciously sharing their space with us so let's be mindful and respectful of their dance floor.  You MUST wear suede or smooth-soled dance shoes.  Ladies in stiletto heels will be required to change or remove their shoes prior to entering the dance floor.
Lesson: 7:30 – 8:00 PM; Dance 8:00 – 10:00 PM
Lesson and Music Provided by David Alexander
Questions: call or text L. A. Rose Entertainment 858-480-7673, or David Alexander 702-882-7080